Originally from Brisbane, Dr Chow is experienced in all aspects of general practice but has a specific interest in travel health, surgical procedures, diabetes and sports medicine. Dr Chow has also served as the TAC Cup Northen Knights Football club medical officer.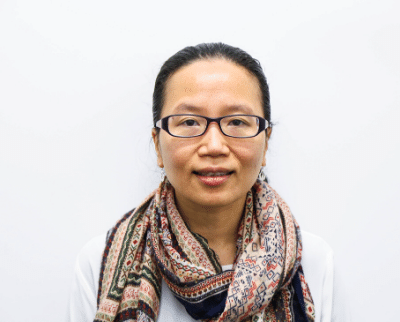 Dr Hsu graduated from Medicine from Melbourne University in 2001 and has since been honing her skills in general practice. She has a particular interest in Women's health and Children's health.
Dr Helen Hsu is also fluent in Mandarin and available for consultations on Monday, Tuesday, Wednesday and Friday.
Dr Johnson Hsu has vast knowledge across a broad range of general medical conditions, and is particularly interested in performing minor surgical procedures. Being a proud father himself, he understands the needs of your child from both a medical and parents perspective.
Dr Johnson Hsu also speaks Mandarin and Hokkien fluently and is available for consultations Monday to Friday
Dr Sivapalan completed her medicine degree from Monash University in 2014 and specialising in General Practice. Dr Sivapalan has an interest in Women's Health and Dermatology.
Dr Shivanthi Sivapalan is fluent in Tamil and available for consultations Monday to Friday
Dr Pallavi completed her medicine degree from Monash University in 2012 and has since gone on to gain experience from leading Australian hospitals.
Dr Pallavi has a strong interest in women's health including contraception and pregnancy, preventative health and weight loss counselling, culturally and linguistically diverse patient care, mental health and chronic disease.
Meet our Physiotherapists
Luke's interest in being a physiotherapist all began with his love of playing and watching sport. Getting his patients moving well, injury-free, and regaining fitness is what he's all about, with a special interest in managing lower back and lower limb issues. He currently works with the National Doctors' Football Team (Soccer) and is also the Senior coach at his local soccer club.
Henry maintains an interest in working with all musculoskeletal and sports injuries. He ensures that his patients understand their condition and how to best manage it.
Henry is currently the Head Physiotherapist for the Women's Volleyroos and may travel with the team on occasion.
Simon completed a Bachelor of Physiotherapy (Honours) at Monash University in 2019. Over the past few years his experience includes working with sporting clubs Oakleigh Districts, Balwyn Tigers, and Scotch Soccer Club. Simon has also spent time at various hospitals, specifically in acute, inpatient and outpatient settings. As he has a background of playing soccer and training at the gym, his particular interests including treating musculoskeletal injuries of the lower limb, back and shoulder.
Carmaine graduated from Monash University with a Bachelor of Physiotherapy in 2014.
Since graduating, she has gained valuable experience working in private physiotherapy clinics managing a range of musculoskeletal and sporting injuries. She is keenly focused on helping her clients achieve their rehabilitation and performance goals.
Outside of the clinic, Carmaine is heavily involved with volleyball as physiotherapist and a player. She travels with the Australian women's junior team on overseas tours and also works with the Victorian senior and junior state teams.
Adam graduated from Latrobe University with a Masters of Podiatry Practice. He has a special interest in sports and movement-related foot and ankle injuries, prolotherapy, regenerative medicine, diabetic foot care and nail surgery for ingrown toe nails. At the core of Adam's treatment approach is his emphasis on educating and empowering patients to manage and prevent their own ailments. Adam has experienced personal foot and ankle injuries as a competitive soccer player which gives him an empathetic approach that resonates well with his patients. In his spare time Adam enjoys playing soccer, tennis and watching movies.
Sulo has experience in working with a multicultural community and has an interest in chronic disease management (diabetes, dyslipidaemia, cardiovascular disease), weight loss, malnutrition in adult and children, IBS and Coeliac disease.
Mira is an experienced Clinical Psychologist who specialises in Mental Health and is knowledgeable across a broad range of mental health conditions. Mira has previously worked with adults of all ages, adolescents, families and children in a variety of settings.
Jordan is a registered Psychologist, and is also a member of the Australian Psychological Society. He has experience working with adults and children in community low cost counselling and primary school settings. Jordan has an interest in the treatment of anxiety disorders and also volunteers with the Anxiety Recovery Centre Victoria (ARCVic)
Krysta is a registered Psychologist, with additional qualifications in Counselling. She has worked in a number of schools, tertiary institutions and community organisations in Australia and Canada. Krysta has more than 15 years experience in the field of mental health and works with adolescents and adults.
Elwin has experience working with people of all ages, from various cultural backgrounds, and exhibiting a range of presentations. Elwin values the importance of working collaboratively with clients and the client-therapist alliance.
Peter is a Clinical Psychologist who enjoys working with a diverse range of clients and presentations. He prefers to work collaboratively with clients towards developing and achieving goals important to them, and employs a number of evidence-based approaches to do so. He is also actively involved in neuroscientific research which informs his approach to counselling.
Simone has experience working with people of all ages in various settings. She is interested in all areas of psychology. Simone believes in a collaborative approach to psychology.
Jason is a provisional psychologist currently completing his Masters in Clinical Psychology. He has experience working with people from different age groups and is knowledgeable across a range of clinical presentations. Jason prefers to work collaboratively with clients utilising a client-centred approach to help client's achieve their treatment goals.
Shirin is passionate about psychology and how it can help people to flourish in all aspects of their life. Throughout her training, she supported clients to deal with a different range of problems such as anxiety, depression, low self-esteem, and interpersonal difficulties.
Shirin applies an integrative approach to therapy and employs different psychological methods, such as CBT, ACT, MI, and Schema Therapy, based on the client's needs and their preferences for therapy. Shirin also has experience in conducting different cognitive and personality assessments.
Shirin is fluent in Farsi and Arabic and happy to aid clients who prefer their therapy to be conducted in Farsi or Arabic.
Swati is a provisional psychologist currently undertaking her Masters in Clinical Psychology. Swati has an interest in working with a range of clients and presentations. Swati believes in working collaboratively with her clients to reach their goals and help find ways to better manage her clients mental health that works for them.
Melanie is a Provisional Psychologist who completed her Master in Professional Psychology. She has experience carrying out behavioural therapy with children and adolescents diagnosed with Autism Spectrum Disorder (ASD) and Attention-Deficit Hyperactivity Disorder (ADHD). Melanie is also interested in working with adults from a range of background and presentations. She believes in building a good relationship with her clients and creating an engaging therapeutic environment.